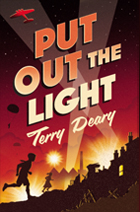 Paperback £5.99
ISBN: 9781408130544
Publication Date: 9 September 2010
A&C Black Publishers
36 Soho Square, London, W1D 3QY
t: 020 7758 0200
f: 020 758 0222
publicity@acblack.com
Victory to friendship in tale of two countries at war
To be published on the 70th anniversary of the start of the Autumn 1940 Blitz
Terry Deary's Blitz Roadshow
The world's most popular children's historian, Terry Deary, brings to the stage an entertaining new take on Britain's darkest days - the Blitz. On the 70th anniversary of the terrible events this actor, singer and author looks at life in 1940 Britain and Germany through story, song, video, archive film and drama.
Terry will be threading the tales of humour and heartbreak through the story of his new novel, "Put out the light". roadshow
This is Terry's 200th published book and he will be celebrating with a tour to meet his readers. He's sold 25 million copies of his books in 40 languages so there are quite a few readers eager to see him live. His most popular non-fiction books are the iconic "Horrible Histories" which in the past 18 years have transformed the way young people learn about history.
For audiences of 8 to 108 this show will change your view of World War 2 forever. Never in the field of human conflict has so much edutainment been packed into 90 minutes on stage.
The audience are invited to join in with some of the famous and the forgotten songs of the era, listen to fascinating facts from a master story-teller and then have a chance to put the author under fire with questions of their own.
The tour begins at The Solihull Arts Centre, Library Theatre, on Tuesday 19 October 2010. Further dates will appear on the Latest News page of this website.
Terry's "Put out the light" Roadshow will use spectacular video as a backdrop like this:
These scenes from the Blitz were created by Amazing Interactives for the "Woeful Second World War" plays that Birmingham Stage Company toured in 2009. In the stage show they were in 3D and you should have seen the audiences duck!